Copperstate2002
Friday Oct. 11, 2002
Lynn and I made the drive to Copperstate 2002. Apparently this flyin has been off and on in past years and at different airports. This year it was held at an up and coming little airport called Phoenix Regional Airport in the town of Maricopa. This airport used to be a dirt strip but it now has a paved runway and grass field for the exhibitors and parked airplanes. This is pretty much in the middle of the dessert but is definitely where all the action is, since there's no other action around.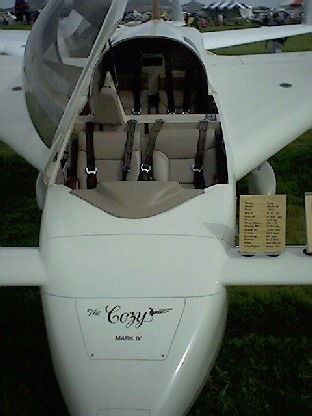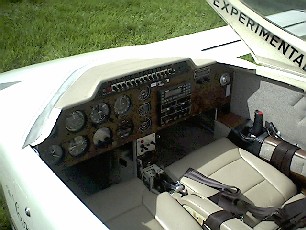 It's a seven hour plus drive from So.Cal. and we got there at 1:30 pm Friday afternoon, just in time to see a Long EZ doing some pretty outrageous aerobatics. Of course not recommended for a family airplane like a Cozy, Nat reminded me, while we talked about everything Cozy. It sure was a pleasure to finally meet Nat, it's amazing how enthusiastic he is after so many years supporting the Cozy. It's just like he's building an airplane for the first time and he's built seven, I was impressed. I asked him all kinds of little stupid questions which he answered as if I were a prospective buyer of an airplane off the showroom floor. His plane is absolutely gorgeous, which is a lot of incentive to just stick to the plans.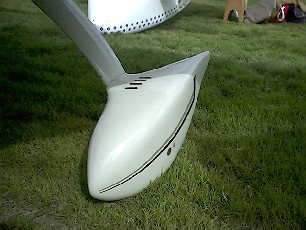 I took some pictures of parts of Nat's plane that have been some current Cozy Builder email topics, like oil coolers, engine baffles and wheel pants.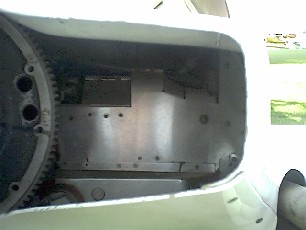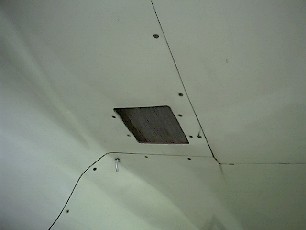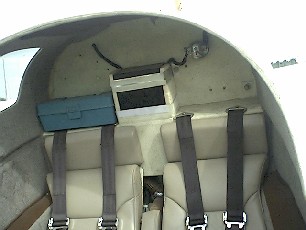 Since I'm on Chapter 4 all I really cared about were bulkheads and they were all buried or covered with instruments. The forward side of the firewall had the battery and starter solenoid mounted to it, which was in plane view. I think I'll make a panel to cover them up for aesthetics.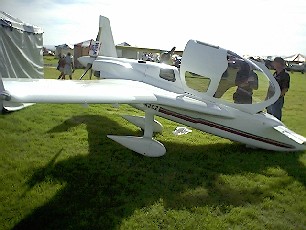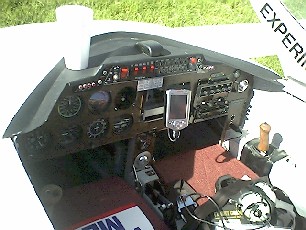 Gene Davis was answering questions nonstop and provided some tips on the hidden rudder bellhorns, when I was looking them over trying to figure out how they worked.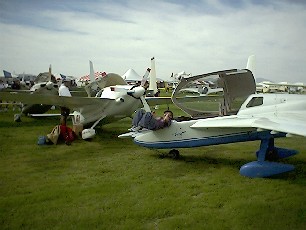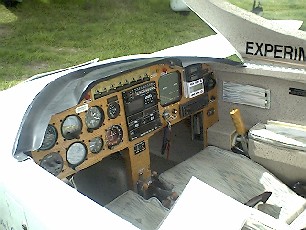 Kevin Funk had a neat panel with an Electronic Engine Display, (VM1000) and his son (I believe) demonstrated the strength of the canard all day long.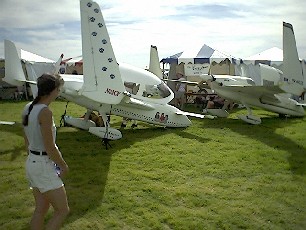 Lynn admiring Colby Farmer's Cats Meow with interesting Cat and Paw print graphics.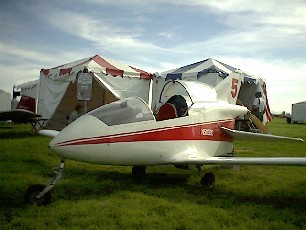 Nat and I looked over a BD-5 that was there, this is the airplane that got Nat started in homebuilt aircraft. We discussed how limiting a single seat aircraft is, since you can't share the joy of flying with someone else. As fate would have it the BD company went out of business and luckily for us Nat went on to build a VariEze, a LongEZ and then eventually designed the Cozy and built several Cozy IIIs and IVs and has been selling plans (up to plans #1050 when we were talking) and supporting the plane ever since.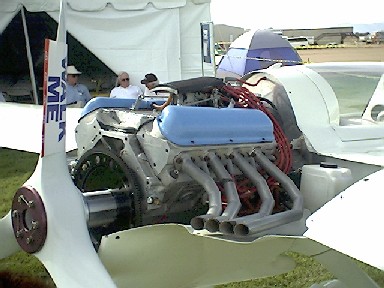 WOW! A Long EZ with a V8! I really liked this installation; it was very clean and simple looking. The radiator sat underneath a reduced height oil pan. It looked like it flew in (bugs on the prop and leading edges). It should be an even easier fit on a Cozy. Tempting but I think I'll stick with the Lycosaurus. Can't remember the name of the company providing the kit for installation.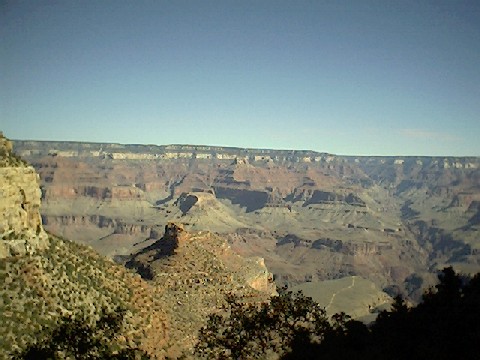 Of course we had to make the drive up to the Grand Canyon, another 260 miles North. This would have been an outrageous trip in a Cozy.